"Madame must not be bored. We'll make sure of that," one of my admirers remarked very quietly, when I told him on the phone about my daily routine being too quiet. Of course I am just as enthusiastic about online education as I am about real sessions. Not everything is bad in this unfamiliar new situation. So I can dive into this virtual world even more intensely.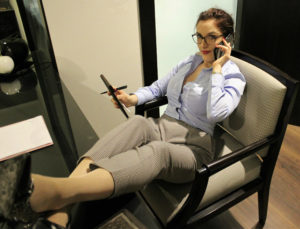 The following options are possible. Please click on it for details!
Online Encounter & Education
Online Coaching & Consulation
Online Coaching & Games for Couples
How can you get in contact with me?
We can connect via phone calls, SMS, e-mail, face-time calls, WhatsApp texts / calls / video calls, Skype calls / videos, Viber texts. If you prefer another type of contact, that is not listed here, just ask me.
As usual, discretion is very important and I expect the same from you.
My tribute
I enjoy it, when you value my time spent with you. It is something very special and personal, because the encounters with me – also online – are always an authentic part of me. Due to the variety of possibilities and intensities, the amount of the tribute is individual – please inquire.
How can you send me an inquiry?
For details (as well as the amount of the tribute, dates, etc.) you can contact me on my number +43 650 707 37 53 (call, SMS, Whatsapp, Viber) or by email myra.mistress@gmail.com. I prefer to have a non-binding first conversation on the phone, in order to clarify the details effectively. You can also hear my voice in that way. If you are not able to make a phone call, you can also send me a message / email.
One is for certain – my everyday life will be refreshed thanks to you;). I am looking forward to it!